Soap Bullet Liquid Hand Soap concentrate Refill pods Natural ecofriendly zero waste plastic free biodegradable made in USA Ohio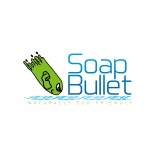 Soap Bullet
Handmade authentically green liquid hand soap concentrate. Saves your hands and the planet.

Add Review
Soap Bullet



Plastic is a pollution problem, so are the toxic ingredients found in 99% of liquid hand soaps. Which can harm your health and the health of the environment.

We at Soap Bullet are toxic free and plastic free. We are the only liquid soap product that has clean-green ingredients making it safe for you and the planet.

You will be relieved knowing that not only will you be doing your part at making the planet greener but also keeping your family safer.



OUR VALUES
Safe for Septic Tank
Alcohol Free
Food and beverage created without the presence of alcohol.
Aluminium Free
Cosmetic and personal care products free of aluminum powder, which is used for pigment and thickening products
Bacteriacide Free
Made without chemical substances that prevent bacteria growth; bactericide is found in antibiotics, antiseptic, and disinfecting products.
BPA Free
Products that are made without bisphenol A, a chemical found in some plastics which has been reported to cause negative health effects on the brain and prostate gland.
Casein Free
Products not containing casein, one of the principal proteins found in dairy.
CFC Free
Products not containing carbon, fluorine, or chlorine, compounds often found in refrigerants and cleaning materials.
Chlorine Free
Products made without the presence of chlorine.
GMO Free
Products made without the presence of organisms that have been either created or altered in a laboratory.
Hypoallergenic
Products, especially of cosmetics and textiles, that are relatively unlikely to cause an allergic reaction
GLOBAL GOOD
We actively work to meet the following UN Sustainable Development Goals:
Good Health
Clean Water And Sanitation
Climate Action
Life Below Water
Life On Land