44 Ways To Seduce Your Next Client from Stage, Podcast, Radio, Virtual Summits and Virtual Networking
44 Ways To Seduce Your Next Client from Stage, Podcast, Radio, Virtual Summits and Virtual Networking
As a changemaker looking to change more lives, attract more clients and scale up your business, you must always be looking for ways to get people to meet with you or opt-in to your list. But if you think the only inducements you can offer are a free ebook, short online program or free consultation, you are far behind the times! Is your free offer tired and not drawing? What if we could give you 44 Ways to Seduce Your Next Client from Stages, Podcasts, Radio Shows, Virtual Summits or Virtual Networking? Get this and rocket your prospective client engagement with new, exciting and creative enticements!
You can cancel your monthly subscription to any of the 3 SpeakerTunity Subscription services (SpeakerTunity Speaker Leads, SpeakerTunity Radio Insider or SpeakerTunity Summits at any time.)
No refunds are issued for SpeakerTunity Cities Regional Directories , SpeakerTunity Cities Booking System or Speakertunity Cities TEDX Directory once purchased and delivered.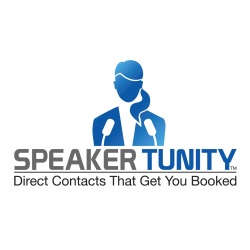 In the beginning of my life I wanted to be a sportswriter--and I did! I became one of the first women sportswriters in America at the Detroit Free Press, Los Angeles Times and Washington Post.And then I moved into PR and being the pioneer I've always...