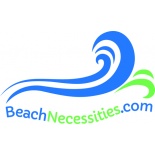 BeachNecessities.com
BeachNecessities.com forges the online shopping experience for the $15B+ US beach goods market with a focus on sustainability, both in the products we carry as well as protecting the health of the ocean, lakes, rivers and streams, as well as the human race, given the adverse impacts from climate change, overfishing and plastic pollution.

Add Review
BeachNecessities.com
As someone who grew up near the ocean, the beach has always been where I go to have fun and chillax.  After my first trip to Hawaii, Oahu, in 11/16, where I blew out my flip flops getting off the plane and found a great new pair along with a cooler to keep our beer cold while watching surfing on North Shore, that prompted me to launch an online store with a beach and ocean focus in 6/17.

BeachNecessities.com forges the online shopping experience for the $15B+ US beach goods market with a focus on sustainability, both in the products we carry as well as protecting the health of the ocean, lakes, rivers and streams, as well as the human race, given the adverse impacts from climate change, overfishing and plastic pollution. While many people equate the beach with the ocean, for others this could be a favorite lake, pond, river or stream so we define beach as any place you can dig your toes in some sand, go for a swim and just enjoy yourself.

OUR VALUES
1% for the Planet
Organization which helps to protect the environment and its resources through the donation of 1% of a company's sales.
GLOBAL GOOD
We actively work to meet the following UN Sustainable Development Goals:
Clean Water And Sanitation
Decent Work And Economic Growth
Industry, Innovation And Infrastructure
Sustainable Cities And Communities
Responsible Consumption And Production
Climate Action
Life Below Water
Life On Land