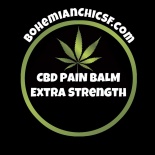 Bohemian Chic SF
100% Organic & Organic homemade CBD products.

Add Review
Bohemian Chic SF
Bohemian Chic SF is a women owned and operated small business out of San Francisco.  

We hand make all our products with 100% natural and organic ingredients. 

We use CBD isolate as well as hemp oil to get the full spectrum and all the cannabinoids the plant has to offer.  

We pride ourselves by being environmentally friendly.  Using recycled and earth friendly materials. 
OUR VALUES
OUR CERTIFICATIONS
Certification in Herbal Therapeutic