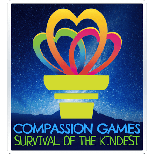 Compassion Games
SURVIVAL OF THE KINDEST

Add Review
Compassion Games
Compassion Games: Survival of the Kindest is a community engagement experience that invites people around the world to inspire one another to reveal and promote acts of compassion that better our lives, our communities, and all life on Earth.






SIGN UP AND CHALLENGE FRIENDS- CLICK HERE

Visit Our Website to Learn More!



Be a part of making our communities a safer, kinder, and more just place to live!

What happens when we shift to a culture of compassion and mobilize thousands of community volunteers? A smile to a neighbor starts a conversation that inspires them to engage with another to volunteer at a shelter that gets a fresh coat of paint, food bank shelves are organized, city parks are beautified, lasting relationships are forged, hearts are opened.

The Compassion Games move us to step out our norms to try new things, enhance relationships and strengthen trust, and turn apathy into action.

Learn more about the Compassion Games to get involved in a Coopetition, a League, and get organized in your community!




Visit the Website to Learn More!



GLOBAL GOOD
We actively work to meet the following UN Sustainable Development Goals:
Peace, Justice And Strong Institutions