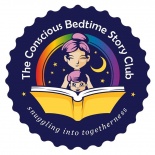 Conscious Stories LLC
A growing collection of social-emotional learning based children's books that allow parents and school administrators to connect with their children in meaningful ways.

Add Review
Conscious Stories LLC
A collection of stories for kids age 3 to 7 that offer heroic characters who employ heart-and-value based approach to exciting challenges. As the characters overcome difficult situations, young children learn a new social-emotional skill. Each book starts with a breathing meditation and ends with a reflective activity to bring awareness and integration about the themes and spiritual values  the stories contain.The architecture of each book creates a unique yet significant opportunity for bonding between adult and child.
OUR VALUES

Family Business

Made with Love
Conscious Stories LLC Items
Support Conscious Stories LLC!
If you enjoy our shop and we align with your values, please click the Love Button in our profile or write a review to spread the word to the Mindful Market community. The more love you share, the more our community will grow and thrive!
Reviews
FAQs



What age are the stories for?

Between 3 and 85 years old! The conscious messages are for all of us, but it's especially important to introduce these values and tools to children between 3 and 7 years old when you're locked into bedtime together anyhow. Remember, the last 20 minutes of the day with your children are a precious gift.




Are some stories better for boys than for girls?

The collection features a great mix of "boy" and "girl" characters with messages that aren't gender reliant. Funny story, our bee was once a boy, but then we had a great chat with an apiarist (bee expert), who let us know our adventuresome bee must be a girl!




Which Conscious Stories are best for younger children?

Nobody is too young or old for deep breaths and story time. These books are as much for parents to connect and open dialogue as they are for children. The rhyming picture books — The Elephant Who Tried to Tiptoe, The Forgetful Elephant, The Bee Who Could Not Choose Her Flower, The tree of Goodness and The Laughing Witch — are great for your youngest little ones. The collection will be with you for many years, so trust your impulse. You know your family best.




What is a "conscious exercise," and why does each book contain one?

Each Conscious Bedtime Story ends with an exercise or series of questions designed to open a conscious dialogue or help children and parents get grounded, peaceful and calm before bed. You'll start to notice your children picking the book they NEED before bed, based on these practices.
Policies
Shipping Policy

Orders over
Conscious Stories LLC
Conscious Stories are here to help your children talk about their feelings.