Crystalline Nectar Handmade Gemstone Jewelry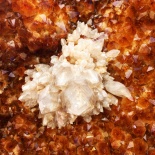 Crystalline Nectar
Handmade Gemstone Jewelry

Add Review
Crystalline Nectar
These Crystalline Malas are made with the upmost care and presence.  There is no use of Glue or artificial ingredients.  I energetically cleanse and charge every gemstone. I hand-select and carefully place each gemstone in the crystalline mala.  I hand-knot every knot with a specific prayer of peace, healing, love, and or abundance.  This is my passion and life purpose, to help awaken and heal myself and others.

***Please contact me if you have a budget that you need to work within :)
OUR VALUES
Fair Labor Practices
Scientific Certification Systems; certification ensuring that products have been developed with equitable and just labor practices.
BPA Free
Alcohol Free
Food and beverage created without the presence of alcohol.
Aluminium Free
Cosmetic and personal care products free of aluminum powder, which is used for pigment and thickening products
BPA Free
Products that are made without bisphenol A, a chemical found in some plastics which has been reported to cause negative health effects on the brain and prostate gland.
Chlorine Free
Products made without the presence of chlorine.
Dye and Color Additive Free
Food or cosmetic products without dye, pigment, or color enhancing substances
Gluten Free
Products not containing gluten, a combination of proteins found in wheat which is known to cause sickness in those with Celiac disease.
GMO Free
Products made without the presence of organisms that have been either created or altered in a laboratory.
Hypoallergenic
Products, especially of cosmetics and textiles, that are relatively unlikely to cause an allergic reaction
GLOBAL GOOD
We actively work to meet the following UN Sustainable Development Goals:
Responsible Consumption And Production
OUR CERTIFICATIONS
Certificate in Aromatherapy
Ayurvedic Wellness Practitioner
Certified Color Aroma Therapist
Certified Nutritionist
Certification in Herbal Therapeutic
Certified Life Coach (CLC)
Certified Psychic Society
Mindfulness Certification
Reiki - Level I
Certified Yoga Teacher