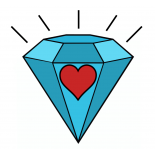 Gem Remedies
Jewelry made with semiprecious stones to promote and aid consciousness, self-awareness, and healing.

Add Review
Gem Remedies
Hand crafted with conscious intention, each design was carefully arranged to maximize the effects of each of the gems. While each has their own special effects and characteristics, there are some that pair well together and others that do not. With this in mind, we took the time, using our sensing abilities to test the combinations out for ourselves so the best qualities of each are enhanced.

Whether you need balance, clarity, perspective, protection, or more love there are designs to aid you. Many of us are on our own journey and find ourselves needing a little extra help. Our designs were specifically created to give you just that- a little boost when you find yourself needing a nudge from your higher self. Made by loving healers, to help unlock the healer in you. 

We also do custom orders, please contact us!

OUR VALUES