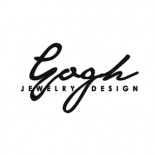 Meet the Designer: Szilvia Gogh
Jewelry that help focus your intentions.

Add Review
Meet the Designer: Szilvia Gogh
Hi, I'm Szilvia Gogh, founder of Gogh Jewelry Design

I'm a professional SCUBA diver, stuntwoman, yogi, cancer survivor and mom. I started my jewelry design business 20 years ago because I love beautiful things, but as an active woman, I couldn't find any silver jewelry that was both meaningful and functional - so I started creating jewelry myself. I wanted to wear jewelry that reflects my passion for the ocean, my love for travel and keeps my positive outlook on life.

My Mission: Give Back. Learn more at https://goghjewelrydesign.com/pages/giving-back-szilvia-gogh-turning-her-passion-into-great-purpose
OUR VALUES
Ayurveda
Traditional Indian system of alternative medicine; based on the idea that health and wellness depend on a delicate balance between mind, body, and spirit.
BPA Free
Products that are made without bisphenol A, a chemical found in some plastics which has been reported to cause negative health effects on the brain and prostate gland.
GMO Free
Products made without the presence of organisms that have been either created or altered in a laboratory.
Non-Toxic
Products designated to be edible or non-poisonous to consume.
Cruelty Free
Manufactured or developed by methods that do not involve experimentation on animals.
Empowers Women
Organizations, companies, and spaces which support gender equality and women's rights.
Ethically Sourced
Products which are produced without compromising the people who execute the production.
Get One Give One
A method of doing business during which one product is given to a designated person/organization in return for the purchase of that item.
Made by Hand
Products/goods which are made uniquely by an individual as opposed to mass produced.
Made with Love
Products/goods that are produced with special attention and care, as if made for a loved one.
GLOBAL GOOD
We actively work to meet the following UN Sustainable Development Goals:
Sustainable Cities And Communities