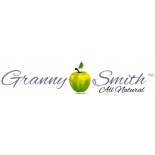 Granny Smith Natural Skin Products
All Natural Skin Care Products & Artisan Handmade Soaps

Add Review
Granny Smith Natural Skin Products
Granny Smith Products are made with only nourishing and soothing ingredients. Our guarantee is that you will be satisfied with our natural soaps & skin care products or we will send you your money back!
OUR VALUES
Aluminium Free
Cosmetic and personal care products free of aluminum powder, which is used for pigment and thickening products
BPA Free
Products that are made without bisphenol A, a chemical found in some plastics which has been reported to cause negative health effects on the brain and prostate gland.
Casein Free
Products not containing casein, one of the principal proteins found in dairy.
CFC Free
Products not containing carbon, fluorine, or chlorine, compounds often found in refrigerants and cleaning materials.
Chlorine Free
Products made without the presence of chlorine.
Dye and Color Additive Free
Food or cosmetic products without dye, pigment, or color enhancing substances
Gluten Free
Products not containing gluten, a combination of proteins found in wheat which is known to cause sickness in those with Celiac disease.
Hypoallergenic
Products, especially of cosmetics and textiles, that are relatively unlikely to cause an allergic reaction
Non-Toxic
Products designated to be edible or non-poisonous to consume.
NPE Free
Products made without nonylphenol ethoxylates, harmful chemicals found in various cleaning products.
GLOBAL GOOD
We actively work to meet the following UN Sustainable Development Goals:
Good Health
Quality Education
Gender Equality
Clean Water And Sanitation
Decent Work And Economic Growth
Reduced Inequalities
Responsible Consumption And Production
Peace, Justice And Strong Institutions