Organic Aromatherapy & Botanical Products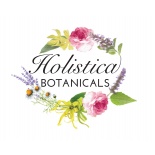 Holistica Botanicals LLC
Organic Aromatherapy and Botanical products made by hand by myself: an RN, Certified Aromatherapist and Herbalist with love in Kauai, HI

Add Review
Holistica Botanicals LLC
Holistica Botanicals LLC was started by myself! I'm a Registered Nurse certified in Aromatherapy and herbalism. I make every product in my shop by hand on the beautiful island of Kauai. We are lucky enough to be surrounded by nature every day. My love is in nature and in providing the multitude of benefits of aromatherapy and herbalism to you all!




Each product is designed to address a mental and physical goal as well as amazing aromatic blends and flavors in my teas. I believe that in order to be beneficial, products must be pleasant in smell or taste.




In addition to this, Holistica Botanicals cares about reducing our chemical exposure in all areas of life. There are many capabilities of aromatherapy and botanicals that negate the need for chemicals. I only use the finest ingredients. Everything put in our products is either Organic, Wildcrafted/sourced, and 100% natural. No pesticides, No parabens, No GMO's and No preservatives are used.




I only use the best essential oils that are of the upmost quality, therapeutic grade, and sustainably sourced. They are all MSDS tested and free of contaminants. Essential oils vary in their abilities based on where the plant is grown, how it is extracted and it's environment. I source my oils from all over the world to ensure this. You can always expect the best from Holistica Botanicals!!
OUR VALUES
OUR CERTIFICATIONS
Certificate in Aromatherapy
Certification in Herbal Therapeutic