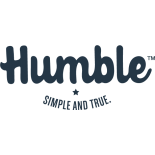 Humble Brands
Humble was first formulated in the kitchen of our founder who was frustrated with the existing selection of antiperspirants and all-natural deodorants.

Add Review
Humble Brands
At Humble Brands, we're committed to using the simplest, cleanest, most effective set of ingredients out there. And they smell great too.

Conventional beauty products can contain harmful chemicals that disrupt our body's natural functions. Many "natural" deodorants have an ingredient list that is long and confusing, resulting in products that agitate skin and fail to control odor. 




SOMETIMES, THE TRUTH STINKS.

The American Journal of Public Health published a report showing that nearly 100% of what we put on our armpits is absorbed into our body. And recent studies from the Journal of the American Medical Association are proving that harmful ingredients can enter our bloodstream after just one use. We don't use clean, all-natural ingredients because it's trendy. We do it because clean ingredients are not only safe to use day to day but also really effective at neutralizing odor.




STINKY PROBLEM, SIMPLE SOLUTION..

Humble is an all-natural deodorant, with absolutely no parabens, aluminum, sulfates, artificial fragrance, alcohol, or proplyene glycol.




Please visit the website for more information and to place an order.
OUR VALUES