Yoga Retreats and Herbal Products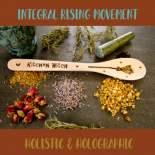 Integral Rising Movement
Private Integrated Yoga Therapy Sessions End-of-Life Doula Services and Consulting Purification & Detoxification Regimen Sessions & Product Kits Transcendental Movement Cafe Experiences Death Cafe Virtually Workshop & Retreats Facilitator Yoga and Dance Classes

Add Review
Integral Rising Movement
Integrative Yoga Therapist ~ Herbalist ~ End-of-Life Doula ~ Workshop & Retreat Facilitator 
OUR VALUES
Alcohol Free
Food and beverage created without the presence of alcohol.
BPA Free
Products that are made without bisphenol A, a chemical found in some plastics which has been reported to cause negative health effects on the brain and prostate gland.
GMO Free
Products made without the presence of organisms that have been either created or altered in a laboratory.
Non-Toxic
Products designated to be edible or non-poisonous to consume.
Made in the USA
Products/goods produced in the United States as opposed to a foreign country.
Supports Charity
Organizations/businesses that show consistent financial and/or other support to select charity/charities.
Woman Owned Business
Businesses which are owned and operated by solely women.
Recycled Packaging
A method of packing and shipping items which works to reduce waste and employs biodegradable materials as opposed to others.
Upcycled Glass
Glass that was once used for one purpose and is manipulated or changed for another purpose.
Sustainable Lifestyle
A method of living which requires one to significantly reduce their use of natural resources.
GLOBAL GOOD
We actively work to meet the following UN Sustainable Development Goals:
Responsible Consumption And Production
OUR CERTIFICATIONS
Certified Yoga Teacher
E-RYT 200