You deserve to be your best self!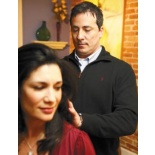 Integrity Energy Healing
James Kupczyk accepts with every fiber in his being that anything is possible.
Integrity Energy Healing
Skeptical? Great! Are you a little nervous to give energy healing a try? No worries!


Jim Kupczyk has been called "A bridge to spirituality" due to his all-American persona which brings ease to the many who are foreign and uncomfortable with the concepts of metaphysics, principals of quantum physics and workings of Energy Medicine.

Jim is certified in Quantum Touch™. For almost 20 years he has been using principles of this method, in combination with his own unique proven techniques, to effectively remove energy imbalances which allows the client to heal her/himself naturally. He is a student of Energy Medicine who constantly researches and practices many modalities depending on the particular clients needs.

Please contact Jim to set up an appointment and discuss any questions you may have.

You deserve to be your best self !



OUR VALUES
Family Business
A small business owned by an individual or family as opposed to a corporation.
Supports Charity
Organizations/businesses that show consistent financial and/or other support to select charity/charities.
OUR CERTIFICATIONS
Quantum Touch Practitioner