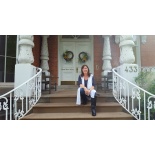 Judith Hartke
Art of Nature and Spirit

Add Review
Judith Hartke
One thing I have learned in my work as an artist and intuitive is that creativity is a beautiful thing! It has no boundaries, chooses no one in particular to carry it, but waits with eternal patience for the moment to be brought forth into our world.. whether it be a song, a painting, or a communication from one who has completed their journey here on earth. Creativity in all it's forms springs from the same source...a brief and undeniable connection to the divine.

This connection has no limits on space or time, and Mindful Markets seems like the perfect place to reach more people who would dearly love to connect with their loved ones in a way that brings them solace, reassurance, or even joy!

I have read and completed Spirit Art Drawings for people all over the world-from Japan, to Denmark, to South Africa. The connection is just as strong as if they were in the same room with me. Mindful Markets allows us to find each other in a very large world and schedule a session very easily and without worry or confusion.


I hope that you will take advantage of this opportunity to make use of my particular skill for you... I would love to help you and your loved one connect!