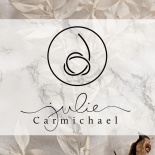 Julie C Textiles
Sustainable accessories and zero-waste products, made by hand. Textile creations, limited series and unique pieces.

Add Review
Julie C Textiles



Precision work, fine details, a wide range of colors and textures: this is what is at the heart of the artistic projects of Julie Carmichael.

Founding inspiration both in the work of the great Impressionists, in their color breaking game, as in that of contemporary artists, creators of artworks that use recycled objects, she tries to approach the idea we can appropriate an object, and decide his utility by ourselves.

Environmental concerns is tinting her desire to create pieces that can have multiple lives, which can be used according to our desire and that we can keep for a long time. This idea of freedom to use the object as we want, in protest against consumerism, is the ultimate goal of this artist.

Learning sewing very young, then at the Cégep fashion design Marie-Victorin, to The Montréal Centre for Contemporary Textiles, her way to use the fabric, to create and transform it, has evolve and become more complex among others by learning felting with shibori, or other interventions by knitting machine. Her work with the fabric is controlled, details are added in density. The intention, however, remains the same: to create a different aesthetic, which arouses interest and curiosity, with colorful creations, three-dimensional, rich textures.
OUR VALUES