KavCom: Conscious Communications, LLC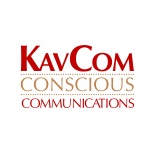 KavCom: Conscious Communications, LLC
Your Conscious Business GPS. KavCom offers ghostwriting, grant writing, and marketing content development. Business and personal coaching is available, as well as educational webinars on a variety of topics.

Add Review
KavCom: Conscious Communications, LLC
KavCom guides you on your conscious business journey. Our company offers results-oriented business coaching. Our team and I ghostwrite for books, blogs, websites, and other marketing content. We are writers with a passion to "give voice to others' intent." Susan Kavanaugh is available for podcast interviews, as an educational webinar host, and unique inspirational speaking.









OUR VALUES
Empowers Women
Organizations, companies, and spaces which support gender equality and women's rights.
Made with Love
Products/goods that are produced with special attention and care, as if made for a loved one.
Supports Charity
Organizations/businesses that show consistent financial and/or other support to select charity/charities.
Recycled Content
Images, graphic design, writing, and other creative mediums.
GLOBAL GOOD
We actively work to meet the following UN Sustainable Development Goals:
Good Health
Quality Education
Sustainable Cities And Communities
OUR CERTIFICATIONS
Certified Professional Co-Active Coach (CPCC)
Certified Life Coach (CLC)
Mindfulness Certification
Masters Degree - Counseling Psychology