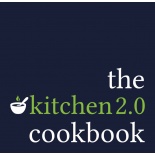 Kitchen 2.0
The Kitchen 2.0 Cookbook is a Comprehensive, Healthy Approach to Simple Scratch Cooking.

Add Review
Kitchen 2.0
Kitchen 2.0 isn't rocket science. It's common sense, with the math done for you. All you have to do is cook and eat! EVERY recipe is comprehensively low-sodium, low-calorie, low-fat, low-cholesterol, using only complex carbohydrates and healthy fats. The K2.0 approach is a simple way to cook healthy meals. It's scratch cooking, but it's fuss-free and easy. Kitchen 2.0 uses ordinary ingredients to produce fantastic meals. We choose organic when possible, consume only complex carbohydrates, and embrace clean eating. Welcome to Kitchen 2.0! It's a revised, reorganized, redirected revolution. Be the change in YOUR life!




NOTE: Until our supply of books arrive from our printer, please order the book through Amazon.com at this link: click here
OUR VALUES
USDA Organic
Certification ensuring the organic status of agricultural products.
Omega 3's
Fatty acids, often found in fish and seeds, which provide varying health benefits.
Fiber
Part of plant-based foods which cannot be digested and therefore, helps to regulate sugar in the body.
Protein
One of the essential nutrients which compose human body tissue and produce energy.
Low in Carbs
Foods and beverages containing little to no carbs, which are found in wheat, oils, and processed foods.
Low in Sodium
One of the elements composing salt; foods and beverages containing little to no sodium per serving.
No Trans Fats
Food and beverage free of unsaturated fats which do not benefit the body and can cause disease.
Empowers Women
Organizations, companies, and spaces which support gender equality and women's rights.
Family Business
A small business owned by an individual or family as opposed to a corporation.
Made with Love
Products/goods that are produced with special attention and care, as if made for a loved one.
GLOBAL GOOD
We actively work to meet the following UN Sustainable Development Goals:
Good Health
Quality Education