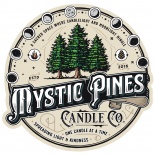 Mystic Pines Candle Co.
Spreading Light & Kindness One Candle at a Time!

Add Review
Mystic Pines Candle Co.
Welcome to Mystic Pines Candle Co...a sacred space where candlelight and moonlight mingle!

Every candle is created with pure love, positive intention and filled with great hopes to make a difference by 'Spreading light and kindness....one candle at a time!' Our candles are 100% American grown soy, Reiki Blessed, and 30% of every retail candle sold will be donated to a charitable organization!


Because of our growth these past few years (and the fact that our candle production seemed to be 'bursting' from the studio in our home, in to our kitchen, the kitchen island and our dining room...we decided it was time to take a chance, and open up a retail location. Stay tuned for our new location opening up in New England!!!

In our sacred space, you'll not only find handcrafted candles, but beautiful jewelry, pottery, locally made gifts, workshops, classes, Reiki healing energy sessions for humans AND animals, psychic/mediumship readings, Intuitive Blend Candle readings, AuraFit scans, essential oils and iTOVi scans, Biomat sessions...and so much more!