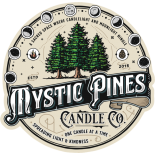 Mystic Pines Candle Co.
Spreading Light & Kindness One Candle at a Time!

Add Review
Mystic Pines Candle Co.
Welcome to Mystic Pines Candle Co...a sacred space where candlelight and moonlight mingle.

We believe that the more love and positive intention you put into something, the more love and positive vibes you'll receive back in your life. It's just that simple. When you make a conscious effort to handcraft candles with the purest, highest-grade, and healthiest products available on the market, and use only original artwork that has been created especially for you, then hand-cut and hand-glue our labels to the candles we lovingly pour, you know that once you receive your candle you are receiving so much more than just wax in a jar. You are receiving a labor of love of painstaking passion that has taken us years to perfect, a process of quality over quantity in a unique, literally one-of-a-kind handcrafted creation and a connection to a piece of art that has taken days to create that came from a source of love from our hands, heart and home, destined for yours! You will not find our consciously crafted candles, and their unique original hand-drawn artisan labels, anywhere else but at Mystic Pines Candle Co.

Our passion doesn't end with being mindful and infusing each creation with pure love and positive intentions along with high-quality products, as a living tribute to those we love and hold dear in our hearts, we donate 30% from every candle sold to animal and human charitable causes, always! Every time you illuminate a Mystic Pines candle, know that you join us in bringing light and kindness, one candle at a time, to a very important cause!

In our sacred space, you'll not only find consciously crafted candles, but local artisan-made jewelry, pottery and gifts. We also offer candle pouring workshops, classes of all types, Reiki healing energy sessions for humans AND animals, psychic/mediumship readings, Intuitive Blend Candle readings, AuraFit scans, essential oils and iTOVi scans, Biomat sessions...and so much more!
OUR VALUES
OUR CERTIFICATIONS
Reiki - Level I
Reiki - Level ll
Reiki Master
Reiki Master Instructor
Certified Traditional Usui Reiki Practioner