Fairtrade Certified Organic Cotton Sheets And Duvets | Origanami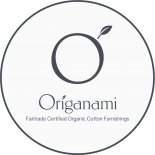 Origanami, llc
Meticulously Crafted, Respectfully and Thoughtfully Sourced, Fine Quality Organic Cotton Home Furnishings

Add Review
Origanami, llc
It's just not good enough to be called organic!

At Origanami, we are passionate about our sleep, our textiles and our planet.

Our furnishings are thoughtfully designed and crafted in old world theology with modern day technology, using only the finest quality materials and the most environmentally and sociably responsible resources and facilities.


It is our desire to provide the finest bed furnishings, that offer peace of mind and true sustainable comfort at affordable prices. Why? Because if what is good for you is not easily obtainable, what good is it?

Please join us in our journey to help change the world one bed at a time.

Thanks!
OUR VALUES
Fair Labor Practices
Scientific Certification Systems; certification ensuring that products have been developed with equitable and just labor practices.
Fair Trade Federation
Organization that supports businesses in committing to the many principles of fair trade.
Global Organic Textile Standard
Certification ensuring that fibers used in textiles are organic and are acquired via environmentally and socially conscious means.
Natural Dyes or Fibers (GOTS)
Fibres and coloring that sourced from plants or animals and are not artificially created.
Non-GMO Project Verified
A third party verification that certifies a product is free of genetically modified organisms.
OEKO-TEX
Certification ensuring that designated fabrics were created without the use of harmful chemicals and are therefore safe for consumers.
Chlorine Free
Products made without the presence of chlorine.
GMO Free
Products made without the presence of organisms that have been either created or altered in a laboratory.
Hypoallergenic
Products, especially of cosmetics and textiles, that are relatively unlikely to cause an allergic reaction
Non-Toxic
Products designated to be edible or non-poisonous to consume.
GLOBAL GOOD
We actively work to meet the following UN Sustainable Development Goals:
Good Health
Quality Education
Gender Equality
Clean Water And Sanitation
Decent Work And Economic Growth
Sustainable Cities And Communities
Climate Action