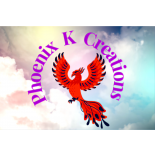 Phoenix k creations
The only Raw Skincare line on the Planet. 100% Organic!

Add Review
Phoenix k creations
Every product is 100% Organic, with no unnecessary fillers or added fragrance. Made from cold-processed, vegan ingredients using no heat production methods for products that assimilate with your skin in a way that man-made or heavily altered ingredients can't. Truly natural ingredients make skincare products that are safe to use on a variety of skin issues and they're compatible with all skin and hair types.

Seven years ago I started this business combining my knowledge of herbs and the raw food diet. While living fully raw in my twenties I learned how much heat decreases the value of our food, you can feel and see the difference throughout your body and mind.

This is true for the value of skincare ingredients too. Heat changes the molecular structure of active compounds, making them incompatible for absorption by the body. I truly believe Raw ingredients and production methods are why these products work so well, even for people with delicate skin types that are harder to care for.

I am so grateful to share my truly natural line with others at an affordable price. I know anyone who wants/needs high-quality Organic products should be able to afford them so my markup is 30-40% below the industry standard.

My life goal is to run multiple nonprofit businesses, so I made sure to give back from day one. It's currently 3% and I look forward to that growing with my business! Donations go to Human rights, Wildlife Preservation, World Hunger, and Mental Health or Autism Support.

This is a green business and orders ship in 100% recycled, zero-plastic packaging, even the labels and tape!
OUR VALUES