SKU
1391-Readings-via-Zoom
Listed are the Readings performed via Zoom. Once payment is made, I will call you to schedule your appointment. The Zoom link will be sent when the appointment is scheduled. All readings are subject to my disclaimer, terms and conditions.
Disclaimer, Terms and Conditions


To read the full Disclaimer, Terms and Conditions please go to the following link. You are automatically agreeing with the disclaimer, terms and conditions by using this website, or by requesting an appointment :
No Shows and Late Arrivals:
If you are more than 10 minutes late, your appointment will be deemed as abandoned. Your payment will be kept. If you miss the Zoom or phone call, I will continue to call you and wait for up to 10 minutes before deeming the appointment as abandoned. No rescheduling, no refunds.



Scheduling or Rescheduling:
Readings are scheduled between 1 and 90 days in the future and will be scheduled at your earliest convenience.. Rescheduling is allowed up to 24 hours prior to your appointment. No rescheduling (or cancellation) with less than 24 hours to your appointment TIME. There are no scheduled appointments less than 24 hours in advance. PMCM is usually booked 1-3 weeks in advance. Please allow for this during the scheduling process. 



Cancellation: Cancellation is allowed up to 24 hours prior to your appointment time. It must be submitted in writing. No cancellations with less than 24 hours to your appointment.



Readings Are PrePaid

Readings or appointments must be fully prepaid prior to the 24 hour mark of your appointment TIME. If not paid by the 24 hour mark, the appointment will be deemed abandoned and cancelled. No refund. No rescheduling. I will fill the time slot with someone from the cancellation list. 



Privacy Policy


Christine Marie considers confidentiality very important. You will not catch her with website monetization or selling your private information.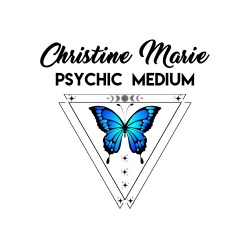 Psychic Medium Christine Marie's talents and skills go back to early childhood (4 years of age).She tunes into the intuitive information by watching & listening to her Guides, Angels, and loved ones, who aim to provide answers, resolution, & healing....