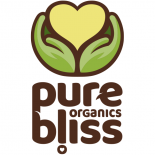 Pure Bliss Organics
ORGANIC + VEGAN + GLUTEN FREE Real ingredients, minimally processed, mixed in small batches. Choose from our all time classic favorites, unique and delicious Paleo blends, or our pure delightful No Sugar - date sweetened creations. Every bag is "Bliss up" certified!

Add Review
Pure Bliss Organics
We are so inspired to share with you our passionate quest for living a healthy and fulfilling life! Finding balance and integrating the various dimensions of our Being has been a long time practice on our personal journeys.


Our choices to strive to live a conscious life found a perfect expression through Pure Bliss Organics where timeless, universal principles of goodness such as respect for all forms of life, compassion, and peaceful inspired actions are woven into the very fabric of our company and all that we do.

Pure Bliss was created with the aspiration to serve the awakening of noble qualities within the heart. We operate on principles of sustainability, environmental and social responsibility, integrity, and high quality + delicious offerings. We wish to ignite this passion in your heart too!






OUR VALUES