Quick Pickle Kit Gift Pack - FREE Shipping
Quick Pickle Kit Gift Pack - FREE Shipping
Special Price
US$114.99
Regular Price
US$119.99
1 Quick Pickle Kit For You + 1 Quick Pickle Kit for a Friend! Pickle any vegetable. Create your very own homemade pickles in a fraction of time with minimal effort! Quick Pickle Kit gives you the tools and teaches you how. Each Quick Pickle Kit Includes: 44-page Cookbook Quick Start Guide 2L (1/2 gal) Reusable Italian glass jar Reusable food-safe rubber gasket Dill spice packet Access to our Pickling Hotline Try our delicious spice packets: Dill, Bread and Butter, Sweet, and Pickling Variety Value Pack, and Assorted Pickling Trio Pack.
Returns & Exchanges
Since we offer food products and are in the midst of a pandemic, we cannot accept any returns or exchanges.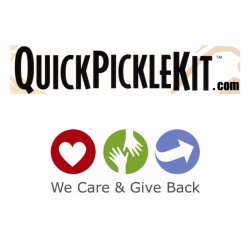 AboutQuick Pickle Kit is a labor of love developed by Andrea Wasko and Meaghan Gilbert utilizing Andrea's mother's recipes that have been in their family for over 100 years.Andrea grew up loving home-canned pickles. Once Andrea made her home in C...