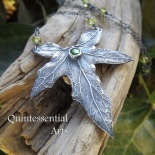 Quintessential Arts
11 years of Pure Silver Jewelry created by nature, handcrafted by an herbalist. Each piece is unique and made with respect for the plant

Add Review
Quintessential Arts
Plant Ally Jewelry - Respectfully Made in Pure Silver

Designed and Handcrafted by Hilary Kamien



Add me on Facebook and/or Instagram for new items, updates, and sales! https://www.instagram.com/quintessentialarts


http://www.facebook.com/QuintessentialArts

***Please bear with me as I transition my Etsy listings over to Mindful Market***

Some listings may include links back to my Etsy, I apologize.

Do feel free to browse the Etsy shop for item reviews, but please purchase through Mindful Market!

OUR VALUES
Hypoallergenic
Products, especially of cosmetics and textiles, that are relatively unlikely to cause an allergic reaction
Non-Toxic
Products designated to be edible or non-poisonous to consume.
Empowers Women
Organizations, companies, and spaces which support gender equality and women's rights.
Family Business
A small business owned by an individual or family as opposed to a corporation.
Made by Hand
Products/goods which are made uniquely by an individual as opposed to mass produced.
Made with Love
Products/goods that are produced with special attention and care, as if made for a loved one.
Made in the USA
Products/goods produced in the United States as opposed to a foreign country.
Non-Toxic
Products created without ingredients which have been linked to toxic responses in humans.
Woman Owned Business
Businesses which are owned and operated by solely women.
Post Consumer Recycled
Paper made from 100% recycled material.
OUR CERTIFICATIONS
Ayurvedic Wellness Practitioner
Herbalism- Master of Science