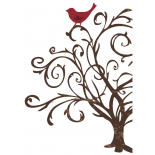 Red Bird Naturals
Herbal Body Care

Add Review
Red Bird Naturals
Our body care products are 90-95% organic and fresh within one month of placing them on the shelf - this makes for a nutritiously rich & as-straight-from-the-ground product as possible!


Many ingredients are harvested nearby our home base in Fort Collins, Colorado:

- beeswax from local keepers.

- medicinal herbs from partner farms and wild-harvested from the Rocky Mountains.

- essential oils pressed in Utah & Oregon.

---

All of our ingredients come from trusted companies where sustainability & quality are at the forefront. Herbs, butters, waxes, and oils are ensured to be low impact and safe for Earth's renewal processes. This our bottom line when considering new ingredients.

Plastic jars are PET (safe for food, will not leach toxins into product), PCW (post consumer waste) and recyclable.
OUR VALUES
OUR CERTIFICATIONS
Certification in Herbal Therapeutic