Eco friendly alternatives to single-use plastic, zero waste personal care and sustainable living products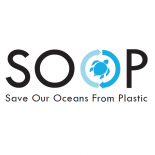 SOOP Bags Inc.
SOOP offers eco-friendly alternatives to single-use plastics and natural body care products with plastic-free packaging.

Add Review
SOOP Bags Inc.
The inspiration behind SOOP Bags was to get behind the growing movement to rid the world's oceans of plastic debris that is contaminating our fresh water sources and endangering the lives of millions of marine species.

We can all do with less plastic in our lives. Seriously. 

We started out as SOOP Bags and worked to tackle the issue of single-use plastic bags. We then expanded to include zero-waste personal care products and modified the name to reflect that. You'll still see references to SOOP Bags, like our website and social media handles.

The underpinning theme at SOOP is to reduce all types of plastic waste, especially single-use plastics, and to find eco-friendly, sustainable alternatives to everyday products that typically have impossible-to-recycle plastic packaging. SOOP body care products were created with this in mind.

OUR VALUES
Aluminium Free
Cosmetic and personal care products free of aluminum powder, which is used for pigment and thickening products
BPA Free
Products that are made without bisphenol A, a chemical found in some plastics which has been reported to cause negative health effects on the brain and prostate gland.
Dye and Color Additive Free
Food or cosmetic products without dye, pigment, or color enhancing substances
Non-Toxic
Products designated to be edible or non-poisonous to consume.
Paraben Free
Products free of parabens, or cosmetic/pharmaceutical preservatives, which have been reported to cause breast cancer, among other issues.
Petroleum Free
Products made without the presence of petroleum, which passes itself off as a moisturizer, but is truly a pore-clogging substance.
Phthalate Free
Products free from phthalates, a huge class of harmful chemicals, posing a wide range of negative health impacts, that can be found in everything from household cleaners to food packaging to fragrance, cosmetics, and personal-care products.
SLS Free
Products made without the presence of Sodium Laureth Sulfate, a corrosive detergent which damages hair and skin while it cleans .
Compostable
Objects which are capable of breaking down and returning to the natural environment without any negative impact.
Biodegradable
Objects which are capable of decaying and potentially contributing to a given ecosystem.
GLOBAL GOOD
We actively work to meet the following UN Sustainable Development Goals:
Life Below Water
Life On Land