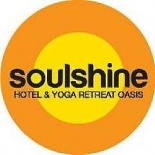 Soulshine Bali
Michael Franti's Oasis of Yoga, Soul & Rock N' roll

Add Review
Soulshine Bali
Welcome to Soulshine Bali, the leading yoga retreat hotel in Ubud. We are an independent hotel focused on relaxed luxury and world famous retreats. Nestled between ancient rice terraces, temples and a lush jungle landscape, peacefully located ten minutes from Ubud center.

Each room features handcrafted furniture by local artisans mixed with antique pieces and modern decor. Comfort is important to us and we strive to be the place you call your home away from home. Our kitchen serves farm to table freshness from the organic garden with a menu full of delicious vegan, vegetarian and local flavours.



Tropical modern designer rooms and villas inspired by iconic musicians. Every room features handcrafted furniture, contemporary interior and antique pieces collected from all over Indonesia.

Soulshine Bali feels like your home away from home, from high quality linen duvets to your own Marshall speaker. All rooms have lush garden views, free wifi and air-conditioning. The boutique suites and luxury pool villas include custom bedding, rain showers and mini bars.

No matter which level of luxury you choose, the low-key style comes with lots of comfort. Clean-lined furniture combine with rough, natural textures, and exotic accessories to create your perfect down-time sanctuary.