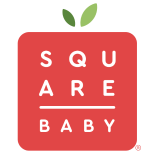 Square Baby
The only organic baby food to offer

Add Review
Square Baby
Give your baby 100%™

Say hello to our Square Meal System™. A foolproof way to give your baby 100% daily nutrition. Rooted in nutrition science, our team of Registered Dietitians and Pediatricians create tailored meal plans to offer 100% of your baby's daily fruits, vegetables, grain, and protein servings based on USDA recommendations.






Keep calm and nom-nom.



OUR VALUES

Non-GMO Project Verified

USDA Organic

Probiotics

Omega 3's

Fiber

Protein

No Added Sugar or Sweeteners

No Antibiotics / Synthetic Hormones

No Artificial Ingredients

Non GMO
GLOBAL GOOD
We actively work to meet the following UN Sustainable Development Goals:

Good Health