Bayou Bourbon Barbecue Sauce
Bayou Bourbon Barbecue Sauce
Description: Our Bourbon & Maple Barbecue Sauce is a tasty blend of Kentucky bourbon, real maple syrup, our Signature St. Pete Barbecue Base and aromatic spices such as anise, black pepper and smoked paprika. Sweet, smoky and tangy, this delicious twist on barbecue will bring the best out of smoked meats and chicken. Try some with your next order, and remember it makes the perfect Father's Day Gift for Dad! Uses: Perfect for basting ribs, brisket, pulled pork or chicken and grilled chicken, but also works as a dip for fried chicken, french fries, wings, and other breaded snacks. Piquancy: mild Size: 13 oz. jars Ingredients: Roma Tomatoes, Apple Cider Vinegar, Kentucky Bourbon, Maple Syrup, Red Bell Pepper, Onion, Garlic, Dark Brown Sugar, Lemon Juice, Liquid Smoke, Smoked Paprika, Black Pepper, Cumin, Cinnamon, Anise, Ancho Chilies, Himalayan Pink Salt Misc: This product is vegan and gluten-free, as distilled bourbon is considered safe for gluten-free diets by a majority of medical professionals. Attention Shoppers in the Tampa Bay Area: Please contact me to directly to coordinate a meet up or drop-off to avoid shipping costs!
Shipping Policy



Shipping Options



Returns & Exchanges



Cancellation



Privacy Policy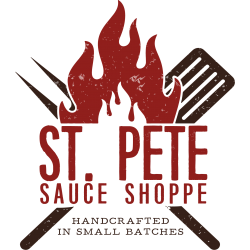 Grant Winfrey
6299 31st Street North, St. Petersburg, FL, 33702, US
[email protected]
AboutMission StatementWhat We Believe InOur Location...