Glades Mop Sauce - Sugarfree!
Glades Mop Sauce - Sugarfree!
This product is aligned with 7 values
Description: Presenting our keto-friendly Glades Mop Sauce, sweetened naturally with stevia! This delicious yet sugar-free sauce is a fantastic mash-up of Florida flavors and Southwestern spices. We mix a vinegar base with Cumin, Mexican Oregano, house-roasted Poblano Chilies and Florida orange peels with a kick of Datil Pepper that's an ideal basting sauce for red meat and chicken. This Grilling Sauce is loaded with Southwestern flavor that will leave a lasting impression on you and your cookout guests. Best of all, our Glades Mop Sauce has ZERO added sugar and only <7g of naturally occurring carbohydrates per jar, making it PERFECT for low-carb, paleo, and ketogenic diets. Order your 13 oz. jar of Florida Flavor today folks, and remember it makes the perfect gift for the foodies and grill-o-philes in your life! Uses: Mop sauces are best used to repeatedly baste meat while grilling or smoking, and this bad boy is no exception. This sauce will deliver perfectly juicy steaks and chicken, and can also impart a delicious, smoky and tangy flavor on smoked meats like ribs and brisket, and is versatile enough for Tex Mex dishes like Carne Asada, Birria or Barbacoa. Piquancy: mild-medium Size: 13 oz. jars Ingredients: Apple Cider Vinegar, Roma Tomatoes, Key Lime Juice, Roasted Red Onion, Bell Peppers, Toasted Poblano Chilies, Garlic, Liquid Smoke, Ancho Chilies, Cumin, Smoked Paprika, Oregano, Florida Orange Peels, Black Pepper, Ginger, Himalayan Pink Salt Misc: This product is vegan, gluten-free, and keto friendly!
Shipping Policy



Shipping Options



Returns & Exchanges



Cancellation



Privacy Policy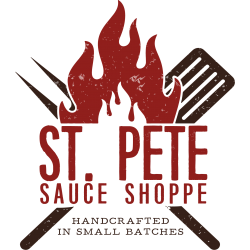 Grant Winfrey
6299 31st Street North, St. Petersburg, FL, 33702, US
[email protected]
AboutMission StatementWhat We Believe InOur Location...