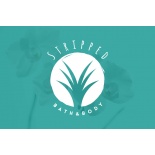 Stripped Bath & Body
Stripped Bath & Body is a registered trademark brand and uses only natura, fair trade and certified organic components and packages its products in recyclable containers so as to leave a minimal footprint on the world in the production of our craft.

Add Review
Stripped Bath & Body
Stripped Bath & Body is a registered trademark brand and uses only natura, fair trade and certified organic components and packages its products in recyclable containers so as to leave a minimal footprint on the world in the production of our craft.
OUR VALUES

Alcohol Free
Food and beverage created without the presence of alcohol.

Aluminium Free
Cosmetic and personal care products free of aluminum powder, which is used for pigment and thickening products

BPA Free
Products that are made without bisphenol A, a chemical found in some plastics which has been reported to cause negative health effects on the brain and prostate gland.

GMO Free
Products made without the presence of organisms that have been either created or altered in a laboratory.

Non-Toxic
Products designated to be edible or non-poisonous to consume.

Paraben Free
Products free of parabens, or cosmetic/pharmaceutical preservatives, which have been reported to cause breast cancer, among other issues.

Pesticide Free
A method of food preparation or farming which does not include artificial pesticides .

Petroleum Free
Products made without the presence of petroleum, which passes itself off as a moisturizer, but is truly a pore-clogging substance.

Biodegradable
Objects which are capable of decaying and potentially contributing to a given ecosystem.

Cruelty Free
Manufactured or developed by methods that do not involve experimentation on animals.
GLOBAL GOOD
We actively work to meet the following UN Sustainable Development Goals:

Gender Equality

Decent Work And Economic Growth

Reduced Inequalities

Sustainable Cities And Communities

Responsible Consumption And Production

Climate Action
OUR CERTIFICATIONS
Certificate in Aromatherapy