The Calm Monkey | workplace mindfulness | facilitator training and certification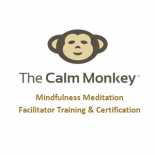 The Calm Monkey
The Calm Monkey is the industry leader in training and certifying passionate meditators to become mindfulness meditation facilitators in their workplace or community. Learn to introduce mindfulness in your workplace or for your client organizations.

Add Review
The Calm Monkey
The Calm Monkey is the pioneer and leader in training experienced meditators to become skilled facilitators in the workplace and in the community.

Here we have three unique offers:

1) Mindfulness Meditation Facilitator Training & Certification program

2) Workplace mindfulness implementation coaching

3) 'Dealing with Change Toolkit' to help you through you difficult changes in life using mindfulness.




Our flagship Mindfulness Meditation Facilitator Training & Certification program steps you through the highly practical and best practices approach to create or expand a workplace or community program, and become a skilled mindfulness facilitator. Includes quick-start toolkit and community of practice of like-minded people worldwide.
See the Free Preview of the training.

Apply for this program to assess your eligibility.
What you will learn:
Best practices on how to get support and promote, start and grow a respected, secular program.
Avoid mistakes and minimize risks for yourself and participants.
How to skillfully lead live, guided meditations.
Build your knowledge, confidence and credibility.

Industry trends and issues that facilitators need to be aware of and know how to address.
What supports you ongoing:

Earns you the title of 'Certified Mindfulness Meditation Facilitator'. Annual recertification is required.

Includes a quick-start toolkit with sample communication templates, agenda outlines, participant handouts, meditation scripts, meditation recordings and background music,
An online community (private Slack group) to interact with other facilitators worldwide. Once certified, join the live, group Zoom meetings for high interaction and meaningful discussions.

Who is this for?

Practitioners of mindfulness and meditation who want to:
Become a skilled, confident facilitator and help others discover these practices.

Have a best practices framework for a quality program and minimize risk.
Employees working in organizations and/or entrepreneurs, professionals and service providers wanting to integrate mindfulness into their offerings.





Find out more about the Mindfulness Meditation Facilitator Training Course & Certification Program.

See The Calm Monkey's main website here.





Questions are more than welcome at [email protected]

OUR VALUES
Woman Owned Business
Businesses which are owned and operated by solely women.
OUR CERTIFICATIONS
CMF (Certification in Mindfulness Facilitation)
Mindfulness Certification
Mindfulness Teacher Certification