The Calm Monkey | workplace mindfulness | facilitator training and certification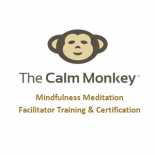 The Calm Monkey
The Calm Monkey is the industry leader in training and certifying passionate meditators to become mindfulness meditation facilitators in their workplace or community.

Add Review
The Calm Monkey
The Facilitator Training online, self-paced course steps you through the practical and programmatic approach to create or expand a workplace or community program. Includes a great quick-start toolkit and online community of practice.

Optionally get your Mindfulness Meditation Facilitator Certification to build your credibility.




Bundle the Training & Certification together for the best value and interact with Wendy Quan!


The Calm Monkey's Facilitator Training course (SIGN-UP FOR THE FREE PREVIEW):
includes a valuable quick-start toolkit with sample communication templates, agenda outlines, participant handouts, meditation scripts, meditation recordings and background music, 
teaches you how to get support to start an ongoing program, promote and grow the program,
best practices and mistakes to avoid,
how to lead live, guided meditations and create the experience to help others discover and continue this important life practice. 
includes The Calm Monkey's  online community (closed Facebook group) to interact with other facilitators worldwide.



The optional Certification Program:

earns you the title of 'Certified Mindfulness Meditation Facilitator'.
builds your credibility.

builds your confidence with access to Wendy Quan and the community for mentorship.
be an essential part of live group meetings exclusively with other certified facilitators.



Find out more about the Mindfulness Meditation Facilitator Training Course & Certification Program, and also see the bundle here!

See The Calm Monkey's main website here.





Questions are more than welcome at Wendy@TheCalmMonkey.com