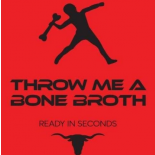 Throw Me A Bone Broth
Broth. Bone Broth.

Add Review
Throw Me A Bone Broth
THE FIRST & ONLY ORGANIC CHICKEN & ORGANIC GRASS FED BEEF

POWDERED BONE BROTHS FOR

FOOD SERVICE, HEALTHCARE, RESTAURANTS, CPG, GROCERY & WHITE LABELING.

ALL PRODUCTS ARE KETO & PALEO FRIENDLY.

UNLIKE MOST BONE BROTH POWDERS OURS IS NOT SPRAY DRIED.

NEW!

GRASS FED, ANTIBIOTIC & HORMONE FREE, BONE BROTH PROTEIN MIXES IN CHOCOLATE, VANILLA & UNFLAVORED.

&

GRASS FED PASTURE RAISED BOVINE COLLAGEN. MIXES EASILY!






Dark Roast Chicken bone broth now available.

Tastes just like light coffee.

The perfect substitution for or addition to a cup of Joe!

Bone broth has been a part of the most nutritious diets for thousands of years but the long cooking process has made in rare in most modern home & commercial kitchens. Finding a quick, easy convenient version has been almost impossible, until now.

Introducing organic, grass fed Throw Me A Bone Broth Beef Powered Bone Broth.

Hack Your Bone Broth!

All Convenience No Compromise.

Ready in an instant &

no more food waste!

This is bone broth 2.0! Made from 100% organic chicken & grass fed beef bones TMABB comes in 7 flavors. Servings vary per pound but With an average of 30 servings or 30 reconstituted cups per pound each pound replaces over 7.5 quarts of traditional bone broth. Reduced packaging, easier to use on the go and much greener to ship.

No more defrosting or half used, open containers in the fridge. No more waste! Food waste is a huge problem in the US. 40% of the our food goes into the trash, enough to feed everyone who goes hungry in our country. We are doing our part to stop hunger & food waste. For every pound we sell we will donate $1 to our local food bank. We will increase this amount as our sales grow.

Beef bone broth is high in protein & rich in minerals to support the immune system as well as the adrenals. It contains healing compounds such as collagen & glutamine that can help with improving joint & digestive health & reduce inflammation.
OUR VALUES