Waterfall Glen Soap Company, LLC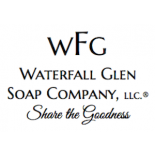 Waterfall Glen Soap Company, LLC
We began in 2013 making soap in our kitchen. In 2014 we earned Leaping Bunny certification and by 2015, we chose to use only RSPO sustainable palm oil. We went plastic free in 2019. In 2020, we partnered with a distributor that serves the midwest. Our passion and purpose remain clear: We manufacture products layered with complex aroma blends and believe the door to imagination begins within the soul. We believe a healthy planet is just as important as healthy skincare.

Add Review
Waterfall Glen Soap Company, LLC
https://www.youtube.com/channel/UCXZMWjiipZnLH_kRsI6qmsA













We firmly believe in the 'small footprint' philosophy making our packaging as green as possible. Waterfall Glen Soap Company pursues vegan practices, earth-connection, compassion for all people and nature. Follow our company FaceBook page. We make it engaging and active. Waterfall Glen Soap Company has big dreams and a lot of goodness to share.





~ Douglas Coggeshall

Waterfall Glen Soap Company FounderWho are we?







Chase Your Dreamshttps://www.youtube.com/channel/UCXZMWjiipZnLH_kRsI6qmsA

OUR VALUES
Leaping Bunny
Logo which ensures that animal testing was not done in the creation of a product.
Aluminium Free
Cosmetic and personal care products free of aluminum powder, which is used for pigment and thickening products
BPA Free
Products that are made without bisphenol A, a chemical found in some plastics which has been reported to cause negative health effects on the brain and prostate gland.
Gluten Free
Products not containing gluten, a combination of proteins found in wheat which is known to cause sickness in those with Celiac disease.
GMO Free
Products made without the presence of organisms that have been either created or altered in a laboratory.
Hypoallergenic
Products, especially of cosmetics and textiles, that are relatively unlikely to cause an allergic reaction
Paraben Free
Products free of parabens, or cosmetic/pharmaceutical preservatives, which have been reported to cause breast cancer, among other issues.
Petroleum Free
Products made without the presence of petroleum, which passes itself off as a moisturizer, but is truly a pore-clogging substance.
Phthalate Free
Products free from phthalates, a huge class of harmful chemicals, posing a wide range of negative health impacts, that can be found in everything from household cleaners to food packaging to fragrance, cosmetics, and personal-care products.
SLS Free
Products made without the presence of Sodium Laureth Sulfate, a corrosive detergent which damages hair and skin while it cleans .
GLOBAL GOOD
We actively work to meet the following UN Sustainable Development Goals:
Clean Water And Sanitation
Climate Action
Life Below Water
Life On Land