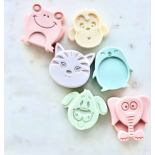 Zaaina Skincare
Natural Skincare & Bath Care Product line for Modern Lifestyle.

Add Review
Zaaina Skincare
Zaaina products are all 100% pure, natural, and handmade; made with simple, well known and well recognized ingredients. Our products are all natural and does not contain Chemicals, Artificial Preservatives, Fragrances and Parabens. We do not conduct animal testing.

All of our products have been inspired by the effective ingredients used for centuries from around the world. We use variety of organic herbs, fruit powders, various kind of clays, coconut butter, & pure essential oils. We believe NATURAL should be NATURAL; and how our skin feel so wonderful after using our products, we want the same for you.

We are located in beautiful Phoenix, Arizona where we manufacture and package our products. Our products are handmade in small batched daily to maintain it's freshness and also to avoid very little to no waste. We ship products all over USA & around the world.
OUR VALUES