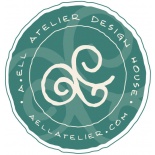 a.ell design
We make sustainable clothing and accessories in our Oregon studio. We focus on eco fabrics such as a Bamboo knit for our Luxurious Loungewear. Tencel & Modal blends for our Sensuous, Versatile Poncho and a Hemp & Tencel blend for our Island Style Loungewear for Men. Take a joyful wander through our shop and see all the high quality items we are creating. .

Add Review
a.ell design
Lush, vibrant, plant-sourced fabrics. Earth & Sea inspired design.  Made by hand on the Southern Oregon Coast.  

Ethical ~ Eco-friendly ~ Sustainable
OUR VALUES
Natural Dyes or Fibers (GOTS)
Fibres and coloring that sourced from plants or animals and are not artificially created.
OEKO-TEX
Certification ensuring that designated fabrics were created without the use of harmful chemicals and are therefore safe for consumers.
Biodegradable
Objects which are capable of decaying and potentially contributing to a given ecosystem.
Cruelty Free
Manufactured or developed by methods that do not involve experimentation on animals.
Ethically Sourced
Products which are produced without compromising the people who execute the production.
Family Business
A small business owned by an individual or family as opposed to a corporation.
Made by Hand
Products/goods which are made uniquely by an individual as opposed to mass produced.
Made with Love
Products/goods that are produced with special attention and care, as if made for a loved one.
Made in the USA
Products/goods produced in the United States as opposed to a foreign country.
Non-Toxic
Products created without ingredients which have been linked to toxic responses in humans.
GLOBAL GOOD
We actively work to meet the following UN Sustainable Development Goals:
Gender Equality
Decent Work And Economic Growth
Responsible Consumption And Production