Andrews Reclaimed Wood Decor and Gifts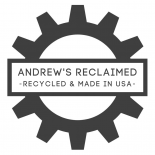 Andrews Reclaimed
Minimal but durable, unusual recycled wood gifts and home & office decor.

Add Review
Andrews Reclaimed
Our work is at least 95% made from materials rescued from disposal, and transformed into useful recycled wood gifts and home & office decor.

We still believe the sum of our efforts can be powerful.  


We choose to use minimal packaging, and to build things to last.

We hope our efforts will make a difference.
OUR VALUES