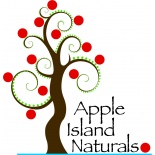 Apple Island Naturals
We make natural, vegan and vegetarian, cruelty-free, bath and body products just for you!

Add Review
Apple Island Naturals
We are a small manufacturing business in the beautiful Rocky Mountains of Golden BC, Canada. Our products are made with all natural ingredients, many of which are organic and fair-trade. We source our ingredients locally as often as possible, right down to the pure, mountain glacier water, beeswax and honey, and the herbs and flowers that we grow organically in our own gardens. Everything we make is done in small batches to ensure freshness for our valued customers. We love what we do and we want to share it with you!
OUR VALUES
BPA Free
Products that are made without bisphenol A, a chemical found in some plastics which has been reported to cause negative health effects on the brain and prostate gland.
GMO Free
Products made without the presence of organisms that have been either created or altered in a laboratory.
Paraben Free
Products free of parabens, or cosmetic/pharmaceutical preservatives, which have been reported to cause breast cancer, among other issues.
Petroleum Free
Products made without the presence of petroleum, which passes itself off as a moisturizer, but is truly a pore-clogging substance.
Phthalate Free
Products free from phthalates, a huge class of harmful chemicals, posing a wide range of negative health impacts, that can be found in everything from household cleaners to food packaging to fragrance, cosmetics, and personal-care products.
SLS Free
Products made without the presence of Sodium Laureth Sulfate, a corrosive detergent which damages hair and skin while it cleans .
Sulphate Free
Products free from synthetic cleaning detergents, which causes skin and eye irritation.
Compostable
Objects which are capable of breaking down and returning to the natural environment without any negative impact.
Biodegradable
Objects which are capable of decaying and potentially contributing to a given ecosystem.
Cruelty Free
Manufactured or developed by methods that do not involve experimentation on animals.
GLOBAL GOOD
We actively work to meet the following UN Sustainable Development Goals:
Gender Equality
Affordable And Clean Energy
Sustainable Cities And Communities
Responsible Consumption And Production
Climate Action
OUR CERTIFICATIONS
Registered Aromatherapist (RA)