This product is aligned with 10 values
Hand-made eco-friendly tire-sandal. Discarded tire treads are some of the most common materials for soles throughout Africa and around the world. These sturdy minimalist sandals are great for everyday adventures, hiking, and protection for barefoot-running.
Seller Questions/Answers
Do these come in different sizes?
- Jamah Dacus
Hi Jamah, yes, they do come in different sizes. Please find our email contact on our main page to email us directly; kindly include your email and we'll see what we can send to you! Sorry for the extreme delay in replying.
Hi! What is your email address? We'd like to follow up with you.
Shipping Policy



Shipping Options



Returns & Exchanges



Cancellation



Privacy Policy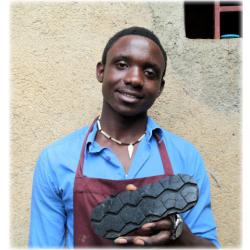 AboutMission StatementThe Atinga Project promotes Western consumer recognition of and response to the local capabilities of African communities, supporting their dignity and development through the sale of their recycled taxi-tire sandals.What We Bel...