Products of Backyard Patch Herbs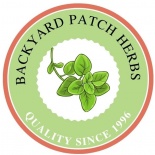 Backyard Patch Herbs
Purveyor of home grown, hand blended herb seasonings and teas crafted with herbs from our own gardens!

Add Review

10% off Use Code PASSPORT10 ✂
Backyard Patch Herbs
Marcy Lautanen-Raleigh uses herbs and flowers grown on her 3/4 acre garden patch, harvested, dried and blended to create an assortment of cooking seasonings and blends along with a variety of all-herb teas. Now you can enjoy the ease of cooking with herbs in your daily life free from pesticides, preservatives and salt.
OUR VALUES
No Caffeine
Food and beverage free of psychoactive drug which stimulates the central nervous system.
No GMO's
Food and beverage free of genetically modified organisms, or organisms that are the direct result of genetic engineering.
No Trans Fats
Food and beverage free of unsaturated fats which do not benefit the body and can cause disease.
No Preservatives
Food and beverage free of substances which delay or prevent decay.
No Salt
Food and beverages that contain five milligrams or less of sodium.
Dye and Color Additive Free
Food or cosmetic products without dye, pigment, or color enhancing substances
Gluten Free
Products not containing gluten, a combination of proteins found in wheat which is known to cause sickness in those with Celiac disease.
Pesticide Free
A method of food preparation or farming which does not include artificial pesticides .
Compostable
Objects which are capable of breaking down and returning to the natural environment without any negative impact.
Ethically Sourced
Products which are produced without compromising the people who execute the production.
GLOBAL GOOD
We actively work to meet the following UN Sustainable Development Goals:
Good Health
Quality Education
Gender Equality
Responsible Consumption And Production
Life On Land