Barkaron® Dog Digestive Health / Well-Being (16 pc dog macaron gift box)
Barkaron® Dog Digestive Health / Well-Being (16 pc dog macaron gift box)
FREE SHIPPING! At Chews Happiness it's simple; food is medicine. We practice this philosophy for dog treats and doggie desserts too. We selectively choose each ingredient for wholesomeness and natural health benefits. We do not tolerate synthetic vitamins or chemicals, period. We support your pet's health and well-being naturally with pure ingredients. Why give your dog supplements when you can give them Barkaron macarons? Lavish your dog with a vet approved, luxury gift box filled with gourmet Barkarons dog cookies. Your dog will feel special and will enjoy the health benefits associated with our Beyond Organic, wholesome, and functional food ingredients gathered from some of the most pristine locations around the world. Barkarons are handcrafted in small batches in our Happiness Dog Bakery high in the unspoiled Himalayas. Our mouth-watering Chicken Barkarons supplement digestive health and wellbeing by combining Organic, Free-Range Chicken meat with a blend of natural, antioxidant-packed wholesome herbs. This all adds up to a delicious, nutritious doggie dessert sandwich that also offers the satisfying crunch that dogs crave. Barkarons are carefully monitored for quality and safety. We never include artificial ingredients, grains and fillers, glycerin or GMOs – just the most delicious, healthy and pure ingredients available anywhere in the world. Taste tested by Bouncer, our Doberdoodle CTO (Chew Tasting Officer) and other dog culinary experts. Barkaron functional foods for dogs are special occasion desserts that are perfect for celebrating dog birthdays, giving dog treat Christmas baskets, gifting a unique dog gift box, or as an after-dinner delicacy. Beautifully packaged in eco-friendly gift boxes, Barkarons also make thoughtful gifts for your dog-loving friends and family!
Shipping Policy
We offer all of our products with FREE SHIPPING!
We are committed to ship your order ASAP and will do so within seven days or your submitting your order.
===============================
Our Happiness Guarantee
At Chews Happiness we want you and your pet to be HAPPY! That's why we offer a full refund policy.
If you are not 100% satisfied with your purchase, you can return the product and get a replacement product or a full refund.
You can return a product for up to 21 days from the date you purchased it. 
Any product you return must be in the same condition you received it and in the original packaging. 
How to Request a Refund 
Email us at: info@chewshappiness.com, or send us a note HERE.
Please include the following information with your email: 
- What product you purchased 
-Order # 
- Please mention that you purchased it on the Mindful Market
- What you would like (full refund or replacement)
- Why you are seeking a refund or replacement
What to Expect 

We will respond to your email within two business days .
We will process your request ASAP, but within one week of receipt.

===============================
Click HERE to read our Privacy Policy.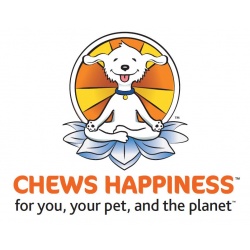 About Our creations are eco-friendly (NO plastic in our treat packaging!), wholesome, indulgent, and support indigenous lifestyles. Our mantra is to spread Happiness for people, their dogs, and the planet. We engage in projects that support indi...