Barkaron® Superfood Blend with Camel Cheese (16 pc dog macaron gift box)
Barkaron® Superfood Blend with Camel Cheese (16 pc dog macaron gift box)
FREE SHIPPING! Our Barkaron® macarons for dogs are super healthy functional foods; they support dog health and wellness so much that they have earned Animal Wellness Magazine's 2020 Product Pick, as well as the endorsement of Dr. Tony Kremer, DVM (Dr. Tony), Chief Executive of thirteen veterinary hospitals and member of the Chicago Veterinary Medical Association Public Education Committee. Lavish your dog with an indulgent gift box full of artisanal, all-natural Barkaron Decadent Doggie Desserts® and show your furry family member how much you care. Each macaron dog treat is lovingly handcrafted in small batches in our Happiness Bakery high in the unspoiled Himalayas. Our luxury doggie French macaron desserts are made with beyond organic, wholesome, super healthy, pristine ingredients, which come from locations far, far away from pollution. One of our "secret sauce" ingredients is camel cheese. Yes, camel cheese. This amazingly healthy functional food is not only YUMMY (Camel Cheese:Dogs as Chocolate:Humans), it represents one of our social programs where we support indigenous camel herders in the Gobi Desert. Yes, we have camped out with these remarkable, gracious people and have personally tasted this delicacy. Our Barkarons make great dog birthday, dog holiday, and other dog special occasion gifts. They combine Camel Cheese, Organic Berries and Pomegranates, herbs and other potent goodies to supplement your dog's skin and coat health and joint health. Due to its high functional food content this flavor provides an immune booster for dogs. Together, these ingredients supplement your dog's health and create a super-nutritious, delicious doggie dessert that offers the satisfying crunch dogs love. Barkaron handcrafted Decadent Doggie Desserts come beautifully packaged in elegant, eco-friendly gift boxes made from handcrafted paper and other recycled, recyclable, and biodegradable materials with NO plastic. - CONTAINS REAL, Organic, free-range Chicken (2nd ingredient) and Pasture-Raised, Grassfed Gelatin, a potent source of collagen amino acids. - CONTAINS Family-nurtured Gobi Desert Camel Cheese, a rare Central Asian delicacy packed with antioxidants, healthy fats and powerful immune boosters such as immunoglobulins and lactoferrin. - LOADED With antioxidant-packed Organic Berries and Organic Pomegranates. - CONTAINS Antioxidant rich, digestive health supporting, Ginger, Honey, and Buckwheat, a grain-free berry seed superfood high in fiber. - CONTAINS Naturally antioxidant packed Purple Carrot and Turmeric, which are loaded with anti-inflammatory polyphenols.
Shipping Policy
We offer all of our products with FREE SHIPPING!
We are committed to ship your order ASAP and will do so within seven days or your submitting your order.
===============================
Our Happiness Guarantee
At Chews Happiness we want you and your pet to be HAPPY! That's why we offer a full refund policy.
If you are not 100% satisfied with your purchase, you can return the product and get a replacement product or a full refund.
You can return a product for up to 21 days from the date you purchased it. 
Any product you return must be in the same condition you received it and in the original packaging. 
How to Request a Refund 
Email us at: info@chewshappiness.com, or send us a note HERE.
Please include the following information with your email: 
- What product you purchased 
-Order # 
- Please mention that you purchased it on the Mindful Market
- What you would like (full refund or replacement)
- Why you are seeking a refund or replacement
What to Expect 

We will respond to your email within two business days .
We will process your request ASAP, but within one week of receipt.

===============================
Click HERE to read our Privacy Policy.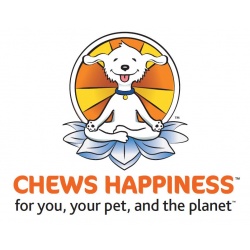 About Our creations are eco-friendly (NO plastic in our treat packaging!), wholesome, indulgent, and support indigenous lifestyles. Our mantra is to spread Happiness for people, their dogs, and the planet. We engage in projects that support indi...