Beeswax Honeycomb Pillar 3"x6"
Beeswax Honeycomb Pillar 3"x6"
Our Honeycomb Pillars are solid rather than wrapped giving you as long a burn as our smooth beeswax pillars with a beautiful honeycomb texture. Hand poured using 100% pure beeswax and a cotton wick. Burn Time: 100 hours Size: 3"x6" Care Instructions: - Always remove all paper labels. - Always trim wick to ¼" before lighting. - Burn for at least 3 hours each burn to prevent tunneling. If tunneling begins, extinguish flame, and use fingers to mold warm wax walls towards the wick. This will allow for optimal use of the wax and will raise wax level to help lessen an over-sized flame. - To prevent excessive smoke and wick charring, extinguish wick by using a tool to dunk the wick in the wax pool and return the wick to an upright position. - Always burn on a level surface and NEVER leave unattended.
Shipping Policy
We ship within 3 business days
$9 flat rate shipping
Return Policy
We want you to be 100% satisfied with your Sunbeam Candles experience. Please contact us within seven days of receiving your order with any questions or concerns. Return authorization is required for all returns.
All orders include a complementary Sunbeam matchbook!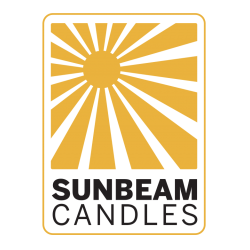 AboutSince 2004, our mission has been to create a beautifully handcrafted product with the least cost to mother earth. To this day, through the growth of our business - and family - our mission remains the same. Thank you for your support and care in...