Beeswax Hunter Green Dipped 10" Tapers - 2 pair box
Beeswax Hunter Green Dipped 10" Tapers - 2 pair box
Packed two pairs per box, our Beeswax Dipped 10" Tapers are crafted with a classic drip-style bottom finish, making them suitable for candle holders in many sizes. Created using 100% pure beeswax, eco-friendly dyes, and a cotton wick. Burn Time: 12 hours each Size: Diameter - top (14mm), middle (20mm), bottom (21mm) Length - 10" Care instructions: - Trim wick to ¼" initially. After that, no trimming is necessary for tapers. Longer wicks benefit tapers in preventing dripping. (Please note: Tapers are the ONLY candle that do not need consistent wick trimming before lighting. All other candles benefit from frequent wick trimming) - To help prevent dripping, do not burn in front of open windows, running fans, and keep out of drafty areas. - To prevent excessive smoke after extinguishing, use a snuffing tool. - Always use a taper holder, burn on a level surface, and NEVER leave unattended.
Shipping Policy
We ship within 3 business days
$9 flat rate shipping
Return Policy
We want you to be 100% satisfied with your Sunbeam Candles experience. Please contact us within seven days of receiving your order with any questions or concerns. Return authorization is required for all returns.
All orders include a complementary Sunbeam matchbook!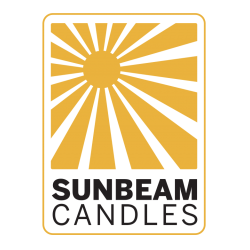 AboutSince 2004, our mission has been to create a beautifully handcrafted product with the least cost to mother earth. To this day, through the growth of our business - and family - our mission remains the same. Thank you for your support and care in...