BEGIN WITHIN ECO-FRIENDLY WELLNESS JOURNAL (SPIRAL BOUND EDITION) - PINK
BEGIN WITHIN ECO-FRIENDLY WELLNESS JOURNAL (SPIRAL BOUND EDITION) - PINK
Begin Within is a daily healing journal for those living life with chronic illness, mental illness, or other health-related challenges. This journal allows you to document everything from your vitals to your nutrition, mood, medications, symptoms, challenges, and accomplishments (big and small), with a focus on gratitude. FILLED WITH 90 DAYS OF PROMPTS I FELT IT REALLY IMPORTANT TO CREATE AN ECO-FRIENDLY AND SPIRAL BOUND VERSION OF THIS JOURNAL. THEY ARE PRINTED ON 30% RECYCLED PAPER, WITH VEGETABLE INK IN SAN DIEGO, CALIFORNIA. Thank you in advance for your purchase - Each month, we donate a portion of journal sales to an organization that promotes advocacy, research, and resources for the chronic illness community. Head to www.beginwithintoday.com/journal to find out which organization we are donating to this month.
Wholesale orders are only available to businesses and brands that hold valid seller's permits. 
Order Fulfillment: Fulfillment can take up to 3 weeks depending upon stock levels, and therefore all wholesale clients are asked to plan accordingly. If all products in your order are in stock and ready, you should receive your order within 2 weeks unless expedited shipping is selected. Back-ordered items can take up to 4 weeks to arrive. Please specify if you would like items to be sent as they are ready or held until the order is able to be shipped in full. Additional shipping fees may apply.
Shipping & Handling: The shipping charges quoted in your order are based on the total weight of the products chosen via USPS/UPS. All orders will have Delivery Confirmation added. Orders shipped via UPS will require mandatory insurance based on the wholesale value of the order. If you would like us to use your shipping account, please include all necessary account info. Insurance is required on all international orders (when available). If your particular country does not enable the purchase of insurance on your package, Begin Within Today will not be responsible for any loss or damage that may occur. Begin Within Today reserves the right to refuse any order felt to be fraudulent.
Wholesale Payments: Orders must be paid for in full in U.S. currency prior to shipment. At this time, we do not offer payment terms). We accept all major credit cards via PayPal. International orders must be paid by PayPal or wire transfer and must arrive in US Currency. Any fees associated with the money transfer must be covered in the amount sent. If you are an international client and need to speak with us about other options, please contact youcanbeginwithintoday@gmail.com
Wholesale Returns & Restocking Fees: We stand behind our products and want to maintain a great relationship with our retailers. After all, you're family. All retail orders come with a 5-day money-back guarantee. Items must be in a resalable condition. Simply return the merchandise with the original invoice and a note stating your reason for return and we'll gladly refund your purchase price. Shipping & handling charges are not refundable, and a 15% re-stocking fee will be deducted from the refund. 
Lost, Incorrect or Damaged Goods: If your merchandise is damaged or incorrect upon arrival, save all contents and packing materials and contact us within 3 business days after its arrival. Shipments that arrive damaged will be replaced only after the merchandise has been returned to Begin Within Today within 10 days of receipt for inspection. Shipments that have been determined to be lost, after thoroughly researching the package through delivery confirmation tracking, will be replaced. For both circumstances, a monetary refund will not be given.
Canceling/Changing Your Order: Due to our size and efficient fulfillment, we move pretty quickly, so we cannot guarantee that your order can be canceled or altered after it has been placed. You may contact us as soon as possible to see if your order has already started to be processed. In the event that it has not, we will be more than happy to make changes to it within 24 hours.
Privacy Policy: We hate spam as much as you do, and will never share your information with anyone. It is for our eyes only. Subscription to our newsletter is not automatic and must be registered for by you at www.beginwithintoday.com. The only automatic subscription is for our resellers who will be added to a reseller list to be notified of any important changes in policies, line sheets updates, and things of similar important nature that directly effect your account and sales. 
Territory Limitations: The sale or distribution of Begin Within Today products to a third party other than a consumer is strictly prohibited unless specifically approved in writing by Begin Within Today. Begin Within Today reserves the right to cancel or limit the sale of its products to parties whose sales and distribution strategies are incompatible with those of Begin Within Today. 
Internet Retailer Requirements: Resellers must have privacy and customer service policies, as well as overall business ethics that are compatible with those of Begin Within Today. It is crucial that the Begin Within Today family remain a reputable and trusted brand. All internet resellers must have a web address of their own to sell Begin Within Today products. You may not use a subdirectory of another company's URL, such as an Amazon.com storefront. Additionally, you cannot sell products through any online auction site such as eBay. Begin Within Today products should be represented as part of a category of like products, and should make up only a portion of the offerings sold online by the web retailer. Once approved, and if requested, we will send product photography free of charge for use on your website in order to maintain a consistent presentation of the brand. All Begin Within Today material, including text from our website, ads, catalog, and other written documentation may be used only with the express written consent of Begin Within Today. The presentation of the Begin Within Today line on your site must clearly differentiate from Begin Within Today company websites and must not confuse a "reasonable consumer." Begin Within Today has the right to review your site periodically to ensure ongoing compliance with this policy. Begin Within Today also has the right to refuse sals at its discretion 
By placing a wholesale order, you are stating that you understand and adhere to all policies set forth by Begin Within Today.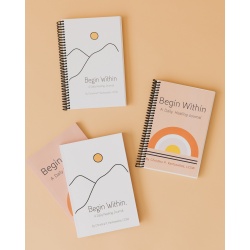 AboutBegin Within Today - Therapy, Life Coaching and Resources meets you, and or your loved one(s) exactly where you/they are, which is in perfect and divine timing. As an organization, we are rooted in a foundation of respect, sensitivity, compassio...