Bella, french clay mask with pearl powder
Bella, french clay mask with pearl powder
An ancient Chinese beauty secret used for over 3,000 years to provide lustrous, beautiful skin and a healthy appearance. Renown for fighting signs of aging and leaves a luxurious natural sheen to the skin. We blend two incredible elements with Tunisian floral water of neroli. Exotic and invigorating with its alluring natural aroma, considered an aphrodisiac experience. Each gold jar contains enough ready-to-use clay mask for multiple indulgent experiences. French clay; althugh the mildest of all clay masks, has a slight micro dermabrasive effect and natural detox effect. Your skin will feel a slight tingle ....that's the magic of the french clay working. Remove the clay to a slight pinkish glow fading to a beautiful, radiance. Each Bella golden jar arrives in an elegant gold satin drawstring bag. Our golden jar signature makes Bella your sumptuous and naturally healthy skin care regime. Remarkable and luxurious facial mask of asian pearls and ultra fine french clay. DIRECTIONS: Wash face, apply thin even layer of clay around eyes, mouth. Cover face, neck and other body parts. Apply to feet and wrap in plastic. Allow clay to dry and gently wash free with warm water. If clay dries out use distilled water only to revitalize. DO NOT USE TAP WATER. INGREDIENTS: French yellow clay, neroli botanical water, crushed Asian freshwater pearl powder, willow bark extract Clay may stain fabric. Keep out of eyes. Do not ingest. Waterfall Glen Soap Company, llc. is not responsible for any individual reaction to any particular ingredient. People with sensitivities to any listed ingredient should not use. In case you are in doubt or have sensitive skin, try on a small area. If at any time irritation occurs discontinue use.
Shipping Policy:  We try to ship same or next day via USPS mail and Priority Mail.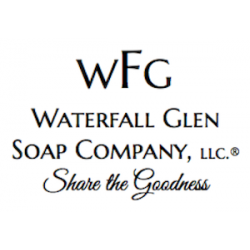 We began making soap in our kitchen for family and friends in the early summer of 2013.  Later that year, we created the foundation of Waterfall Glen Soap Company (named after the forest preserve in our backyard).   We recently moved to Belle...