Body Silk Goat Milk Cream
Body Silk Goat Milk Cream
This product is aligned with 6 values
Try our Body Silk to achieve silky, soft skin. This lotion kicks it up a notch through the addition of our organic goat milk as the number one ingredient. Massage onto clean skin wherever silky smoothness is desired. Allow 10 minutes to fully absorb. Each jar contains one fluid ounce. "I purchased this for my girlfriend, however, I have been using for my dry and rough elbows. The results are remarkable and a very small amount goes a long way." ---Frank "I absolutely LOVE the body silk as my daily and nightly facial moisturizer. Since 1997 I had religiously used Arbonne face product/s. I more recently tried products from Neils Yard Remedies in an attempt to eliminate unnecessary chemicals. Then, I tried Alpine Made Body Silk. I love the feel of this moisturizer and the lack of strong scents/perfumes. This is my new go to for my daily facial moisturizer." ---Kim "Got a free sample of this with a recent order and LOVE it. It is especially helpful on my dry hands. It is really nice and not oily like most moisturizers tend to be." ---Meghan INGREDIENTS: ORGANIC GOAT MILK, HELIANTHUS ANNUUS (SUNFLOWER) SEED OIL, BEESWAX, SODIUM BORATE, PHENOXYETHANOL, CAPRYLYL GLYCOL
ALPINE MADE SHIPPING RETURN POLICY
Always Alpine Made With Our Raw Organic Goat's Milk
We ship via USPS Priority Mail in order to keep costs as low as possible for our customers. All orders will be shipped within 1-3 business days, and most are shipped within 24 hours of the order being received. To estimate cost to ship, just add all the items to your cart and the shipping cost will appear automatically.
Western NY customers: If you wish to pick up your order locally at our farm, we will happily reimburse you for the shipping costs when you arrive. You are also welcome to pet and take photos of our Alpine Goats! Please email or call us before placing your order to arrange a time for pickup and to ensure your order is held.
Shipping to AK, HI, and Canada:
We will gladly ship to our customers in Alaska, Hawaii, and Canada. Please contact us directly at [email protected] to receive a quote on shipping costs.
Free Shipping:
Shipping is free to the lower 48 states on any order of $75 or more.
We accept Visa, Mastercard, Discover, and American Express. We also accept Paypal as an alternative form of payment.
Return Policy
At Alpine Made we take pride in all of our products and 100% customer satisfaction is our goal. If you are not completely satisfied with your purchase, you can return any item for a full refund. We ask that you contact us within 14 days of receipt of your order to arrange a return. Unused products can be returned for a refund. Used products can be exchanged for another item of equal value. We apologize, but we do not reimburse for return shipping costs. Thank you.
ALPINE MADE PRIVACY POLICY
Web Site Terms
1. Terms
By accessing this web site, you are agreeing to be bound by these web site Terms and Conditions of Use, all applicable laws and regulations, and agree that you are responsible for compliance with any applicable local laws. If you do not agree with any of these terms, you are prohibited from using or accessing this site. The materials contained in this web site are protected by applicable copyright and trade mark law.
2. Use License
Permission is granted to temporarily download one copy of the materials (information or software) on Alpine Made's web site for personal, non-commercial transitory viewing only. This is the grant of a license, not a transfer of title, and under this license you may not:
modify or copy the materials;
use the materials for any commercial purpose, or for any public display (commercial or non-commercial);
attempt to decompile or reverse engineer any software contained on Alpine Made's web site;
remove any copyright or other proprietary notations from the materials; or
transfer the materials to another person or "mirror" the materials on any other server.
This license shall automatically terminate if you violate any of these restrictions and may be terminated by Alpine Made at any time. Upon terminating your viewing of these materials or upon the termination of this license, you must destroy any downloaded materials in your possession whether in electronic or printed format.
3. Disclaimer
The materials on Alpine Made's web site are provided "as is". Alpine Made makes no warranties, expressed or implied, and hereby disclaims and negates all other warranties, including without limitation, implied warranties or conditions of merchantability, fitness for a particular purpose, or non-infringement of intellectual property or other violation of rights. Further, Alpine Made does not warrant or make any representations concerning the accuracy, likely results, or reliability of the use of the materials on its Internet web site or otherwise relating to such materials or on any sites linked to this site.
4. Limitations
In no event shall Alpine Made or its suppliers be liable for any damages (including, without limitation, damages for loss of data or profit, or due to business interruption,) arising out of the use or inability to use the materials on Alpine Made's Internet site, even if Alpine Made or a Alpine Made authorized representative has been notified orally or in writing of the possibility of such damage. Because some jurisdictions do not allow limitations on implied warranties, or limitations of liability for consequential or incidental damages, these limitations may not apply to you.
5. Revisions and Errata
The materials appearing on Alpine Made's web site could include technical, typographical, or photographic errors. Alpine Made does not warrant that any of the materials on its web site are accurate, complete, or current. Alpine Made may make changes to the materials contained on its web site at any time without notice. Alpine Made does not, however, make any commitment to update the materials.
6. Links
Alpine Made has not reviewed all of the sites linked to its Internet web site and is not responsible for the contents of any such linked site. The inclusion of any link does not imply endorsement by Alpine Made of the site. Use of any such linked web site is at the user's own risk.
7. Site Terms of Use Modifications
Alpine Made may revise these terms of use for its web site at any time without notice. By using this web site you are agreeing to be bound by the then current version of these Terms and Conditions of Use.
8. Governing Law
Any claim relating to Alpine Made's web site shall be governed by the laws of the State of New York without regard to its conflict of law provisions.
General Terms and Conditions applicable to Use of a Web Site.
Privacy Policy
Your privacy is very important to us. Accordingly, we have developed this Policy in order for you to understand how we collect, use, communicate and disclose and make use of personal information. The following outlines our privacy policy.
Before or at the time of collecting personal information, we will identify the purposes for which information is being collected.
We will collect and use of personal information solely with the objective of fulfilling those purposes specified by us and for other compatible purposes, unless we obtain the consent of the individual concerned or as required by law.
We will only retain personal information as long as necessary for the fulfillment of those purposes.
We will collect personal information by lawful and fair means and, where appropriate, with the knowledge or consent of the individual concerned.
Personal data should be relevant to the purposes for which it is to be used, and, to the extent necessary for those purposes, should be accurate, complete, and up-to-date.
We will protect personal information by reasonable security safeguards against loss or theft, as well as unauthorized access, disclosure, copying, use or modification.
We will make readily available to customers information about our policies and practices relating to the management of personal information.
We are committed to conducting our business in accordance with these principles in order to ensure that the confidentiality of personal information is protected and maintained.
ALPINE MADE ORGANIC CERTIFICATION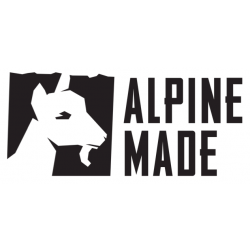 Kerry Planck owns and operates Alpine Made LLC, producing a line of goat milk products created using the certified organic milk produced at her 15-acre goat farm in Wales, NY. She currently has 45 Alpine dairy goats that she milks twice a day, using ...