BREATHE Tourmaline Necklace for Understanding
BREATHE Tourmaline Necklace for Understanding
This product is aligned with 6 values
Sterling Silver BREATHE Pendant on Rainbow Color Tourmaline Necklace for Understanding and Chakra Healing Paying attention to your breathing is one of the fastest ways to become calm, centered, and energized. The key is to breathe fully, deeply and slowly at intervals throughout the day to help balance your body mind and spirit. Gogh Jewelry Design's beautiful BREATHE Necklace with Tourmaline will act as a reminder for you to focus on your breath, especially during these challenging times. Tourmaline aids in understanding oneself and others. It promotes self-confidence and diminishes fear. Tourmaline attracts inspiration, compassion, tolerance and prosperity. It balances the right-left sides of the brain. Helps treat paranoia, overcomes dyslexia and improves hand-eye coordination. Pink is the color of universal love. Pink is a quiet color. Pink provides feelings of caring, tenderness, self-worth and love, acceptance. Put some pink in your life when you want: calm feelings, to neutralize disorder, relaxation, acceptance, contentment. The pendant is 1 inch and also features a pink Swarovski crystal. Handmade with Love in California.
Here we gathered the most Frequently Asked Questions. Should we did not answer yours, please email us at Szilvia@GoghJewelryDesign.com


Q: Can I get my order gift wrapped?
A: Yes. Upon request we can gift wrap items in your order for an $5.00
You will be able to select Gift Wrap at Checkout.


Q: Can I order an item in a different size than it is listed (shorter/ longer)?
A: Yes, just please send us an email with your request and we will be happy to accommodate!


Q: Do you ship internationally?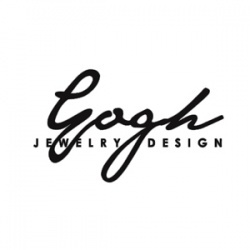 I started my jewelry design business 20 years ago because I love beautiful things, but as an active woman, I couldn't find any silver jewelry that was both meaningful and functional - so I started creating jewelry myself. I wanted to wear jewelry...